We at GSAutoclicker.co acknowledge the importance of repeated multiple clicks and have created GS Auto Clicker for automating mouse clicks for people who want to perform a mouse clicking job over and over The idea behind our work is to make your job easier by achieving 2 things.
Protect your mouse from stress and damage and extend its life.

Rest your fingers from the continuous clicking stress.

 
Your effective Auto Clicking tool!
In the event that you need to repeat mouse movements and clicks, mouse clickers come in handy. If your real mouse's buttons are broken, you can use such software applications to simulate clicks with a virtual mouse.
GS Auto Clicker is the simplest and most effective auto clicker tool that you can get for free to execute repetitive tasks requiring a large number of mouse clicks. When gamers need to make multiple clicks to finish a task, our tool comes to your aid. It takes care of the task while also protecting your mouse from any physical stress and technical damage.
The Best Autoclicker in Town
On the Internet, there are a plethora of auto clickers, each with their own set of features and customizable options. GS Auto Clicker, on the other hand, is a good option for beginners looking for a simple mouse clicker.
Here are the technical specifications of GS Auto Clicker you need to know about.
License: Free

Version: 3.1.4

Latest update: Dec 3, 2020

Platform: Windows

OS: Windows XP, Vista, 7, 8, 8.1, 10

Language: English

Developer: gsautoclicker.co
GS Auto Clicker is a fantastic free application to use if you need to do a lot of repetitive mouse clicking. It greatly simplifies the job.
It's best suited for light-weight projects. It uses the bare minimum of system resources and thus does not lag as a result.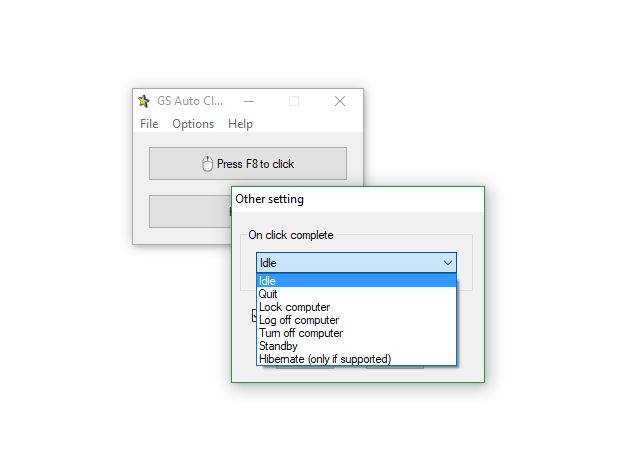 The system requirements for the application are extremely low. This is why it runs beautifully on older computers as well. The following are the basic requirements for it to work smoothly:
At least 512 MB RAM

Windows 10, 8.1, 8, 7, 98, Vista, and XP

1 MB free HDD
Almost all computers nowadays arrive with more features than the tool requires.
The layout of GS Auto Clicker is very simple and easy to use, with an antique feel to it. People love it because it makes the product much easier to use by displaying only the most important and minimal details in the UI. The most notable feature of the software is its simple and user-friendly interface. That's why it is so popular and rated highly by our users.
This tool provides a pleasurable user experience. The programme is extremely light on your system, requiring only a few resources to run due to its simple user interface. It lacks any extra features that would make it more complicated; it simply serves its purpose. This application uses a small amount of CPU resources, reducing the possibility of delays or failures.